04/29/10 23:17 , Categories:
blog
The Windsor Spitfires have proven they can win on the road during the 2010 OHL playoffs. Now they head home with a big lead over Barrie in the OHL Championship Series.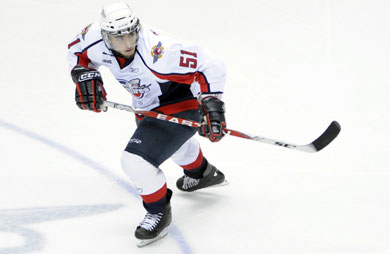 Mark Cundari scored an important shorthanded goal for Windsor.
Aaron Bell/OHL Images
...
Dale Mitchell scored what turned out to be the game-winning goal at 14:10 of the third period to give the Windsor Spitfires a 5-4 win in Game Two of the OHL Championship Series. The Spitfires took both games in Barrie to open the final, with Game Three slated for Windsor Sunday afternoon. Mitchell, a Toronto Maple Leafs prospect, had gone nine games without a goal before scoring his seventh of the playoffs. He caught Barrie on a bad line change and broke in the right-wing before beating Colts netminder Mavric Parks over the shoulder. That goal put Windsor up 5-3 at the time before Kyle Clifford's second goal of the game brought Barrie back to within a goal, but that was as close as they would get.
"It's a big game to take, coming into this tough building against a great team," said Windsor Coach Bob Boughner. "I thought we had some timely goals tonight. Everytime we got that two-goal lead, we couldn't hold it - (Barrie) never gave up...It was a bit of a chess match."
Spitfires defenceman Mark Cundari picked up three points, including a shorthanded goal to open the scoring in the first period.
"Anytime you get a shorthanded goal it's a confidence booster for your team," added Cundari. "It was a timely goal for us, it got us going. It got the road jitters out of us and we picked it up from there."
Zack Kassian, Scott Timmins and Marc Cantin rounded out the Windsor scoring. Alexander Burmistrov and Taylor Carnevale added singles for Barrie.
"We got caught with a couple big mistakes," said Barrie Coach Marty Williamson. "We gave up three breakaway, we got picked by a linesman off a faceoff. I was happy with our game now we just have to persevere."
tdoyle@loosepucks.com
Twitter: Loosepucks
www.facebook.com/loosepucks
No feedback yet

Comment feed for this post
Comments are not allowed from anonymous visitors.