04/30/10 13:00 , Categories:
blog
The Sarnia Sting have made it official, Alex Galchenyuk will be the first overall pick in the 2010 OHL Priority Selection.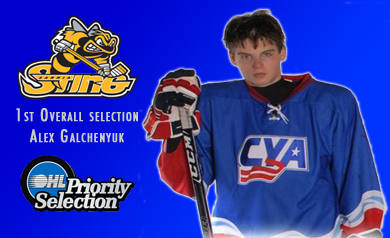 ...
Galchenyuk comes to Sarnia after playing last season with the Chicago Young Americans in the Midwest Elite Hockey Leauge. He lead that league in scoring with 87 points in 38 games, 33 points better than his nearest competitor.
"In my opinion, he is going to follow in a long line of high-end U.S. players to play in the Ontario Hockey League," said OHL Director of Central Scouting Rob Kitamura. "He might be one of the most creative offensive players in this year's draft. He's the type of player that can make something out of nothing."
Galchenyuk was born in the United States while his father Alexander, who was born in Belarus, played professional hockey in the former IHL (when most teams were direct affiliates of NHL clubs). The older Galchenyuk had previously suited up for Moscow Dynamo alongside familiar names such as Alexei Zhamnov, Dmitry Yushkevich, and a 17-year-old Alexei Yashin. The family headed back overseas in the late 90's. The younger Alex played minor hockey in Russia before they eventually returned to North America.
While unfair, it is only natural for fans in Sarnia to put lofty expectations on the 16-year-old Galchenyuk. The Sting used the first overall pick in the 2006 OHL Priority Selection to choose Steven Stamkos. He went on to score 100 goals over two seasons, many of the highlight reel variety, before going first overall in the 2008 NHL Entry Draft.
The complete OHL Priority Selection begins Saturday at 9:00am. I will be hosting the live broadcast on the OHL website, and joined by analysts Wayne Clark, Tim Cherry, and Jeff Twohey.
tdoyle@loosepucks.com
Twitter: Loosepucks
www.facebook.com/loosepucks
No feedback yet

Comment feed for this post
Comments are not allowed from anonymous visitors.