05/21/10 19:52 , Categories:
blog
On Friday, the Canadian Hockey League confirmed what had been discussed for the past month - junior teams and players will be featured in the next edition of the EA Sports NHL game franchise.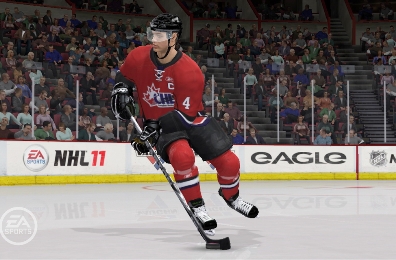 The likeness of Taylor Hall in this fall's EA Sports NHL '11 game.
Courtesy EA Sports
...
EA Sports, along with the CHL announced that NHL '11 would involve all of the WHL, OHL and QMJHL teams and arenas. Actual players from the junior teams would also be used. Game players will be able to control a junior team, and even guide it straight through to the Memorial Cup.
Windsor's Taylor Hall and Tyler Seguin of the Plymouth Whalers were also on-hand for the announcement. Hall broke out a big grin when a screen capture of himself playing in a Spitfires jersey was displayed, along with another as Hall at the CHL Top Prospects Game.
The CHL also informed attending media that beginning next season, all of the league and team websites would have a similar look. This is a task the National Hockey League has already undertaken. The similar look allows for information and content to be exchanged easily between teams along with the league sites.
tdoyle@loosepucks.com
Twitter: Loosepucks
www.facebook.com/loosepucks
No feedback yet

Comment feed for this post
Comments are not allowed from anonymous visitors.