05/26/13 22:42 , Categories:
blog
They were among the top teams across the country throughout the season, and in the end the Halifax Mooseheads did not disappoint on the big stage.
...
Nathan MacKinnon scored his second hat trick of the 2013 MasterCard Memorial Cup tournament to pace the Halifax Mooseheads to a 6-4 victory. Konrad Abeltshauser scored two goals for the Mooseheads while Martin Frk added the other.
"I grew up in Halifax, I've watched this team go through hard times and good times," said Tournament MVP Nathan MacKinnon. "After that second period there was a little doubt creeping into our minds. I thought we had a pretty solid third period. They made it close again - it's all worth it for sure, it's unbelievable."
After opening up a 3-0 lead in the first period, the Winterhawks bounced back with two goals in the second period to make things interesting in the third period. With a 5-2 lead Halifax appears to have the game in control. But a late goal by Ty Rattie brought Portland back to within a goal. But it was MacKinnon into an empty net that completed the hat trick and clinched the victory. It was his sixth goal against Portland during the tournament, as he appeared to have the Winterhawks' number.
"It might be coincidence, it might not be. I felt pretty good in both those games and thankfully a couple went in for me."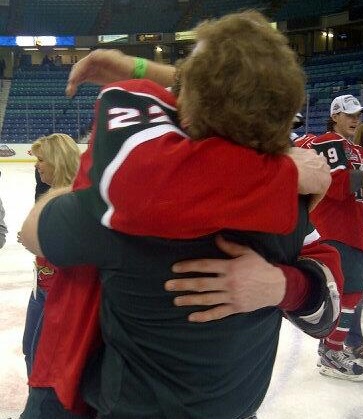 Nathan MacKinnon hugs his father Glenn after capturing 2013 Memorial Cup
The win is the first ever in the history of the Halifax Mooseheads franchise. They appeared as host in the 2000 tournament before losing in the semi-final.
"We're champions, we're the best team in Canadian Hockey. I wish we could go to worlds - I love these guys. It's too bad our season is over but we went out on top," added MacKinnon.
Notes:
-The 2013 MasterCard Memorial Cup tournament finished with a total attendance of 82,503. That puts it fourth all-time. Vancouver (121,561), Quebec (84,686) and Ottawa (84,200) are the top three. The 2000 event in Halifax drew a higher average crowd than Saskatoon 10,000 vs. 9,167 but had one fewer game due to no tiebreaker.
-Next year the London Knights will make their third straight MasterCard Memorial Cup tournament appearance. That will tie them for second in terms of consecutive appearances with Peterborough (1978-80), Sault Ste. Marie (1991-93) and Kelowna (2003-05). The all-time record is four set by the New Westminster Bruins (1975-78).
2013 MasterCard Memorial Cup Award Winners:
Stafford Smythe Memorial Trophy (Tournament MVP):
Nathan MacKinnon, Halifax
Hap Emms Memorial Trophy (Outstanding Goaltender):
Andrey Makarov, Saskatoon
George Parsons Trophy (Sportsmanlike):
Bo Horvat, London

Ed Chynoweth Trophy (Leading Scorer):
Nathan MacKinnon, Halifax
Tournament All Star Team:
Goalie: Zach Fucale (Halifax)
Defence: Derrick Pouliot (Portland)
Defence: Konrad Abeltshauser (Halifax)
Forward: Nathan MacKinnon (Halifax)
Forward: Martin Frk (Halifax)
Forward: Ty Rattie (Portland)
[email protected]
Twitter: Loosepucks
No feedback yet

Comment feed for this post
Comments are not allowed from anonymous visitors.