02/09/17 12:18 , Categories:
blog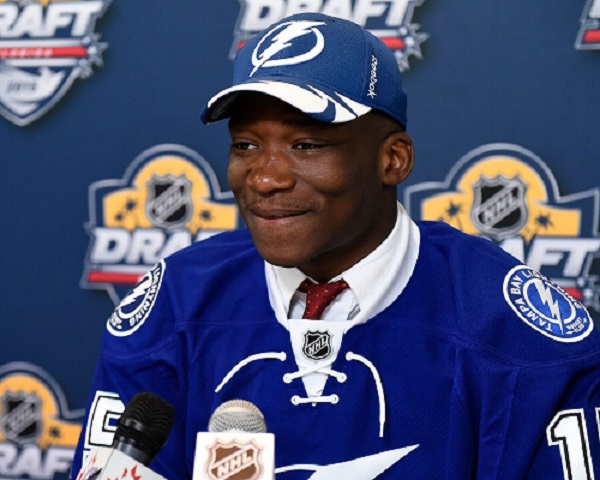 Photo: Aaron Bell/CHL Images

Bokondji Imama is well-known in the QMJHL for his hands. Over the course of his five-year junior career, those hands have often been clenched in fists as one of the league's toughest players.
...
As a child, however, those same hands often played with dolls, the result of being the only boy sandwiched in age between his four sisters: Alice, Bononga, Bandeja and the youngest Kumbia - named after their mom.

His parents, Bokondji Sr., and Kumbia, emigrated from the Democratic Republic of Congo and there were only a few friends with sons around the younger Bokondji's age.
"I was always with my sisters playing with them," said the 20-year-old forward. "It was more Barbie and stuff. My dad hated it so one day he said, 'You're going to play sports and hang out with your friends. You can't just play with your sisters all the time.' "
This season, with the Saint John SeaDogs, those same hands have also shown a hidden deftness. It was there in minor hockey, where he was scoring goals and putting up points, but overlooked in favour of his physicality once he made it to junior.
In his overage season with the SeaDogs, Imama has scored 32 goals and 44 points in 47 games. He'd scored just 30 goals in his four previous QMJHL seasons.
So what happened?
For starters, SeaDogs head coach Danny Flynn encouraged Imama to use his offensive skills more. During the Christmas break when the team had Thomas Chabot, Jakub Zboril and Mathieu Joseph away for the world juniors, Imama found himself playing on the top line. He made good on the opportunity and his reputation as one of the toughest players in the league didn't hurt, either.
"I'm going to the net hard and always finishing my checks on defencemen," said the 6-foot-1, 217-pound winger. "I don't think they like to play against me. When you're playing and you know the other team doesn't want to be on the ice at the same time as you, automatically it gives you an advantage."

The sixth-round draft pick of the Tampa Bay Lightning also spent the summer working on improving his game - puck-handling, shooting and getting quicker on his skates.

"It actually helped with my confidence, too," said Imama. "When I'm being used in different situations I'm not panicking because I've worked on it over and over through the season. It comes naturally now."
It's hard to imagine Imama, who speaks with a directness and thoughtfulness greater than his years, suffering from a lack of confidence. Last season in Saint John, he said, was particularly trying. It was marred by a highly-publicized 15-game suspension for leaving the bench to defend his then 15-year-old teammate Joseph Velleno, who was hit from behind into the boards.
"I'm not making any excuses," said Imama. "Last year was not a good year, but it's only me that is responsible. If this year is a good year - it's only me that is responsible. Obviously I have the help of my teammates, but that's how I see it."
To be sure, it's been a junior career fraught with obstacles starting in 2012 with his move from multicultural Montreal to the smaller city of Baie-Comeau after being drafted by the Drakkar. It was a big culture shock, though he went to the President's Cup final in his second year only to lose in Game 7 to Val-d'Or.
The following year - despite assurances from management he was staying - he was traded from the Drakkar to the SeaDogs. After the trade, he attempted to drive to Saint John in bad weather only to hit a patch of ice three hours outside of Rimouski, Que., and total his new car. Imama was unhurt, and the Drakkar paid for a flight so he could join his new team. When he finally made it, he went straight to the rink for a game and suited up even though the game had already started.
Now, telling these stories serve as lessons in perseverance for Imama.
"That's the way I was brought up," said Imama. "My parents came from far away and they didn't always have it easy here or (in the Congo). I always tell my mom and dad that I'm grateful for this and that I love them for this (opportunity).
"I'm lucky enough to be playing hockey and living my dream, so I know when things are not going well I don't have any excuses - I just have to make sure I go up the hill and not down it."
No feedback yet

Comment feed for this post
Comments are not allowed from anonymous visitors.